What is a Septic System? How does it work? When do you pump it? How you are protected as a buyer...
Septic systems are underground wastewater treatment structures, commonly used on Cape Cod because of the lack of centralized sewer systems. They use a combination of nature and technology to treat wastewater from household plumbing produced by bathrooms, kitchen drains, and laundry.
A typical septic system consists of a septic tank and a drainfield, or leechfield.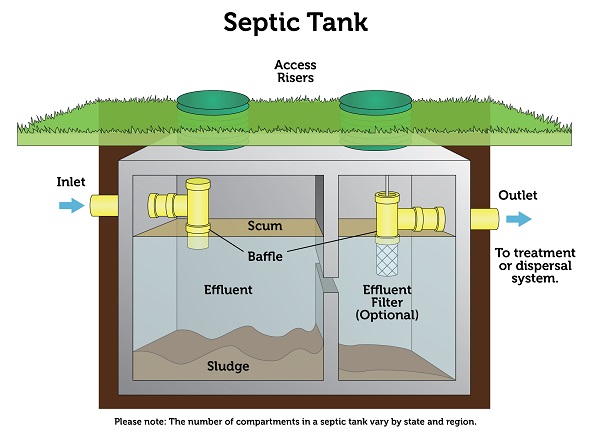 The septic tank digests organic matter and separates floatable matter (e.g., oils and grease) and solids from the wastewater. Soil-based systems discharge the liquid (known as effluent) from the septic tank into a series of perforated pipes buried in a leach field, chambers, or other special units designed to slowly release the effluent into the soil.
This is how a typical conventional septic system works:
All water runs out of your house from one main drainage pipe into a septic tank.
The septic tank is a buried, water-tight container usually made of concrete, fiberglass, or polyethylene. Its job is to hold the wastewater long enough to allow solids to settle down to the bottom forming sludge, while the oil and grease floats to the top as scum.
Compartments and a T-shaped outlet prevent the sludge and scum from leaving the tank and traveling into the drainfield area.
The liquid wastewater (effluent) then exits the tank into the drainfield.
The drainfield is a shallow, covered, excavation made in unsaturated soil. Pretreated wastewater is discharged through piping onto porous surfaces that allow wastewater to filter though the soil. The soil accepts, treats, and disperses wastewater as it percolates through the soil, ultimately discharging to groundwater. If the drainfield is overloaded with too much liquid, it can flood, causing sewage to flow to the ground surface or create backups in toilets.
Finally, the wastewater percolates into the soil, naturally removing harmful coliform bacteria, viruses and nutrients. Coliform bacteria is a group of bacteria predominantly inhabiting the intestines of humans or other warm-blooded animals. It is an indicator of human fecal contamination.
HOW OFTEN DO YOU PUMP YOUR SEPTIC?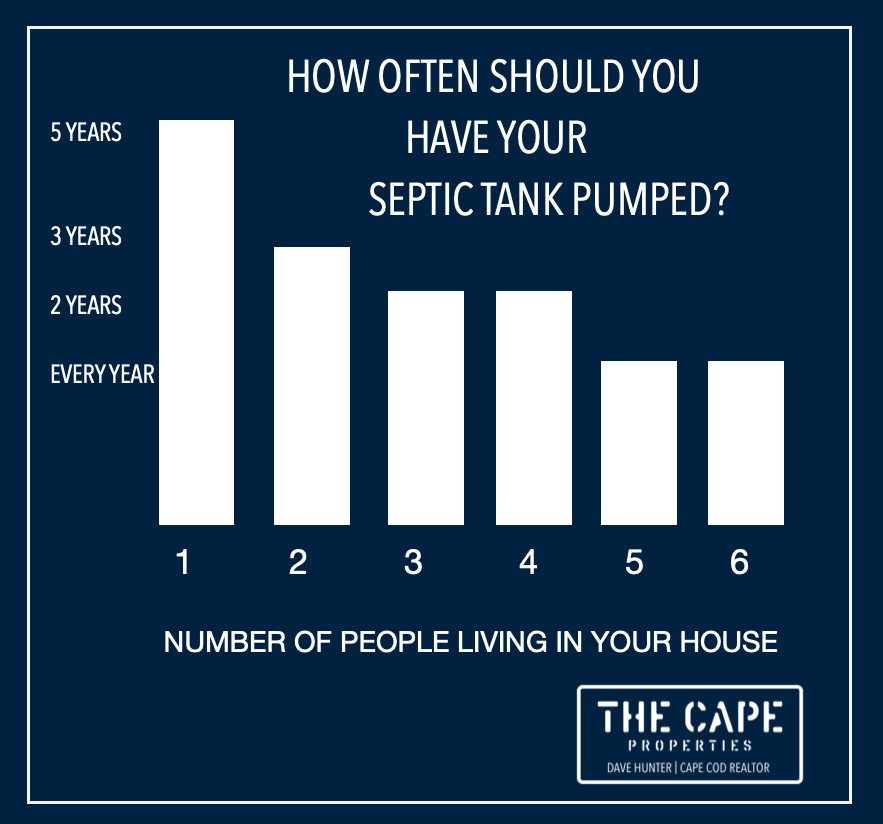 WHAT IS TITLE V and HOW DOES IT PROTECT THE HOME BUYER?
( All information provided by MA.GOV )
A home must have a Title V inspection:
Within 2 years before a sale. If weather conditions prevent inspection at the time of a sale, the inspection must take place within 6 months afterward.
When there is a proposed change to the facility which requires a building or occupancy permit.
Any change in the footprint of a building, to make sure that new building construction will not take place on top of any system components or on the system's reserve area.
For large systems with a design flow of 10,000 to 15,000 gallons per day or more at full build-out, on the basin schedule shown in 310 CMR 15.301(6), and every five years thereafter.
Every 3 years for shared systems.
When the property is divided, or ownership of 2 or more properties is combined.
When MassDEP or the local Board of Health orders an inspection.
A PASSING TITLE V CERTIFICATE IS NEEDED TO CLOSE ON YOUR MORTGAGE AND PROTECTS THE BUYER FOR 2 YEARS IF THE SYSTEM WERE TO FAIL.
Property transfers with special requirements
System inspections must occur within 2 years before or 6 months after the following types of property transfers, provided that the transferring entity notifies the buyer in writing of the requirements of 310 CMR 15.300-15.305 for inspection and upgrade. If the system is pumped once per year following the date of the inspection, then the inspection remains valid for three years, provided the inspection report includes records demonstrating that the system has been pumped at least once a year during that time.
Foreclosure or deeds in lieu of foreclosure
Levy of execution that results in a conveyance of property
Bankruptcy
Sale of a condominium unit or condominiums:
Condominiums with 5 or more units - all systems must be inspected every 3 years.
Condominiums with fewer units must either inspect all systems every 3 years, or the system serving the unit being transferred must be inspected within 2 years prior to transfer.
When you DON'T need an inspection
Transfers between certain family members: Title 5 does not require a system inspection if the transfer is of residential real property, and is between the following relationships:
Between current spouses;
Between parents and their children;
Between full siblings; and
Where the property is held in a trust. See the "Guidance on Exemptions from Title 5 System Inspections", below.
Refinancing a mortgage or similar financial instrument;
Taking of a security interest in a property, e.g., issuance of a mortgage;
Appointment of, or a change in, a guardian, conservator, or trustee;
Any other change in ownership or the form of ownership where NO NEW parties are introduced (e.g., for estate planning or in a divorce);
The property owner or buyer has signed an enforceable agreement with the Board of Health to upgrade the system or to connect the facility to a sanitary sewer or a shared system within 2 years following the transfer of title, provided that such agreement has been disclosed and is binding on subsequent owners;