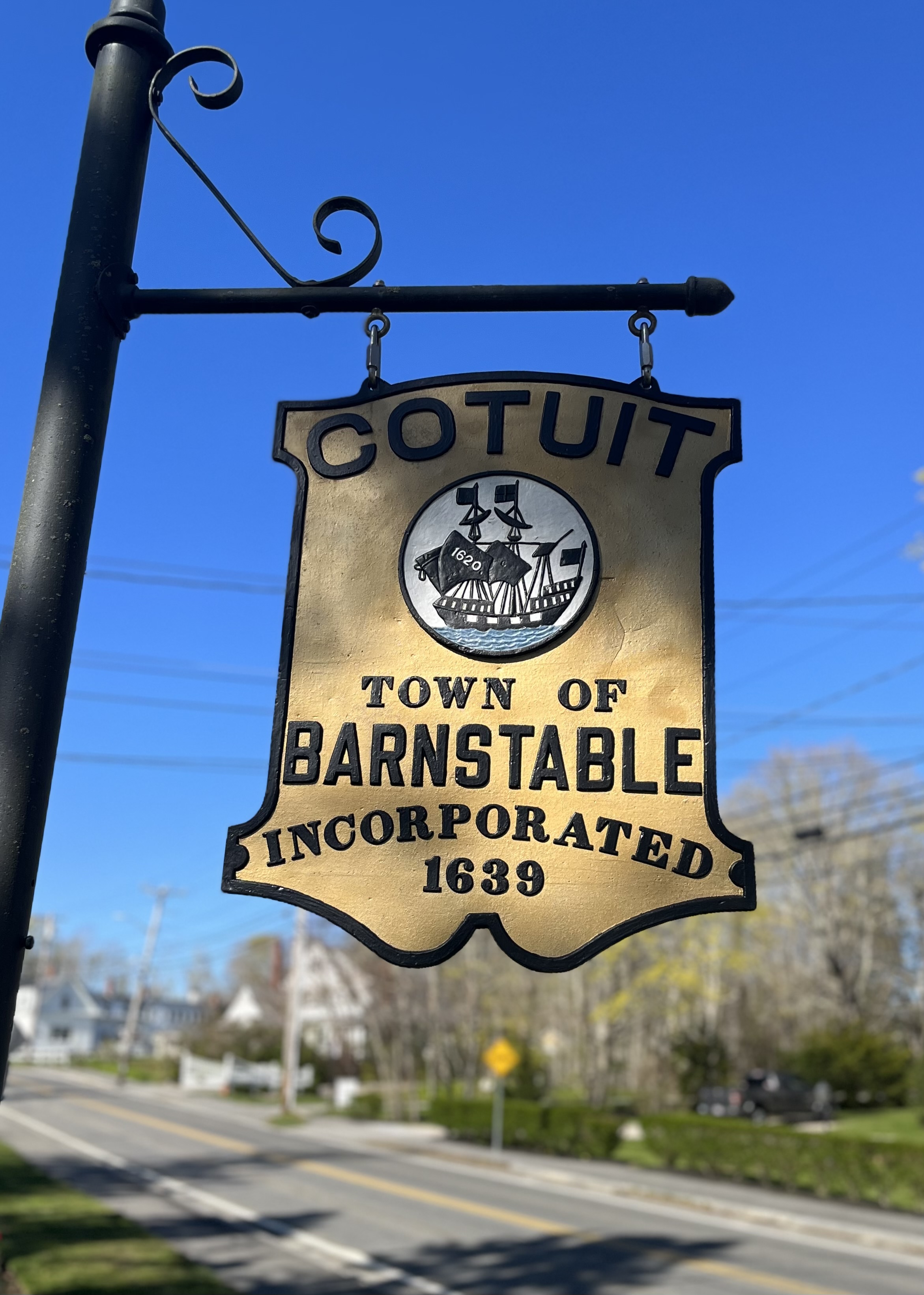 Cotuit is one of my favorite towns on the Cape and one of the least know. It is one of the villages of Barnstable along with Hyannis, Marston Mills, W. Barnstable, and Osterville. Most of the land is secluded from any other towns on a peninsula surrounded by Cotuit Bay, Shoestring Bay, Popponesset Bay, the Santuit River, and Nantucket Sound waterways. The 5.5 Miles sq / miles of land are made up of historic homes, windy roads, beaches, landings, churches, and a few special places.
The name Cotuit is derived from the Wampanoag term: "place of the council". The land was bought in 1648 from the Wampanoag Headsman by Plymouth Colonies Myles Standish. Legend says that the land was bought with the trade of "one great brass kettle, seven spans in wideness roundabout, and one broad hoe." ( farming tool ) The land was later used for Camp Candoit in World War II.
Today, many of the historic seaside and inland homes have been renovated, but Cotuit still has the undeveloped seaside charm that sets it apart from any other Cape town. The Kettle Ho, and The Cotuit Kettler's Cape Cod Baseball team are both named after what the town was purchased for. ( A kettle and a Ho ( farm tool ) ) . Lowell Park and the Kettle Ho are two of my favorite spots on the Cape. The Kettle Ho is a popular "Cape Bar" not renovated over time and covered in college pennants. The service, the food/drink, and the atmosphere make this a special place. I am a baseball fan and aside from Fenway Park, I have never been to a better place to watch a game than Lowell Park. It is tucked in the woods and surrounded by cedar-shingled buildings and wood stands down the lines. You can be up close to watch future major league stars play along with loyal Kettler fans in this special atmosphere. ( See the schedule to catch a game here )
School Street is at the center of Cotuit and has a great playground for kids, a library, and a few small-town buildings. Further down on Main Street is Cotuit Fresh Market. This old-school general store is filled with groceries and local gifts. It is the perfect spot to get a sandwich before you head out on a boat or to one of Cotuit's beaches. Cordwood Landing, Ropes Beach, Town Dock, Rileys Beach, Loop Beach, Oregon Beach.
Reach out to me to show you around or learn more about Cotuit and homes and the homes for sale.